Workout: Routine A, Circuit 1 of Jackie's weight-lifting program + 20 min interval session
\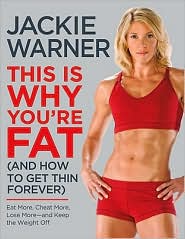 Talk about shaking things up, this lady kicks bootay!
I was first introduced to her through Shape's feature on her
Power Circuit
routine. I loved it and still use it from time to time. Today's routine was no different, tough with another serving of tough on the side!
Have you ever done any of her workouts?
I actually just bought the nook book but haven't started it yet, I'm still trying to get through Franklin's autobiography. I did scroll through and am trying the workouts, including the treadmill interval workout. It's only 20 minutes but you're alternating speed and incline so you never get bored, you don't have time to. Plus, you're supposed to do it every work day and I've gotten a great burst of energy both days - we'll see how it goes.
I'll do a full review of the book once I get around to finishing it. Have you read it? Any thoughts?
ADios!